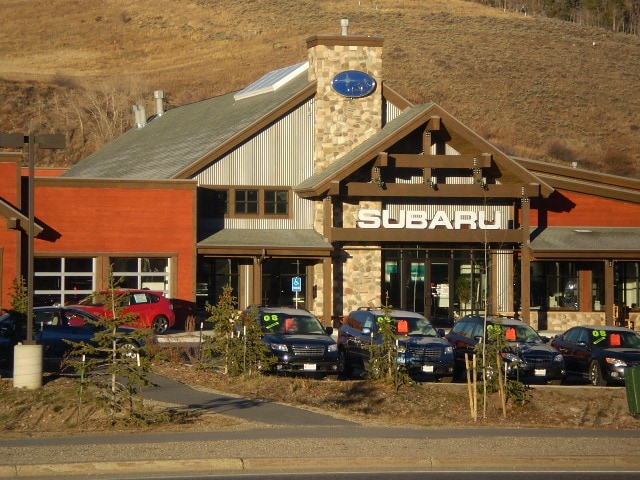 About Vista Subaru of Silverthorne - Your Colorado Subaru Dealer
At Vista Subaru of Silverthorne, we offer new Subaru cars in Silverthorne, along with used cars, trucks and SUVs by top manufacturers. Our friendly and knowledgeable sales staff will help you find that new or used car you have been searching for in Silverthorne.
For years, our financial staff at Vista Subaru of Silverthorne has offered expert advice for those seeking a great Subaru car loan or lease.  Our service doesn't stop there, Silverthorne customers can come in and take advantage of our knowledgeable Subaru car repair technicians and a fully-stocked inventory of Subaru car parts.
You can reach Vista Subaru of Silverthorne any time by filling out our contact form, by calling us at (866) 221-8555, or stopping by and visiting our Silverthorne Subaru dealership.
Find out more about Vista Auto Group by visiting one of our social sites:

We are located in Silverthorne, Colorado with-in Summit County.  We are conveniently located just off Interstate 70 at the Dillon and Silverthorne exit.  We are dedicated to serve the automotive needs of all the mountain communities including Dillon, Vail, Eagle, Breckenridge, Steamboat Springs, Idaho Springs, Frisco, Granby and Grand Lake.  For folks in Eagle, Clear Creek, Grand Lake, Routt, Jefferson or Park counties- we are your neighborhood dealership!
If you have had a great experience at Vista Auto Group, please visit
I Love Vista Auto
and leave a review of our dealership.
Hear What Our Customers Have to Say
      "Reason to Own a Subaru"
"Driving Subaru home (to Estes) had low tire pressure light come on. Stopped at your dealership, 
had two men drop what they were doing and solved the problem in 15 minutes. No charge. That's
one reason why I have owned 4 Subaru's. THANKS!!!"
                                                                                                                        Jon Nelson   
"A bad day turned around at Vista Auto"
"My Subaru Outback broke down in Silverthorne, and I immediately contacted the local dealership. I     was met with patience, helpfulness, and care. I talked to Kevin, the Service Advisor at Vista, and he   helped me with getting my car towed to the dealership. It was the weekend and seemed to be a busy part of the day and Kevin informed me that since it was in the later part of day my car would not be able to get looked at until the next day. He gave me his card and to call first thing in the morning. By the time I had called Kevin had already diagnosed the car with a mechanic and told me my options.  Since I live a few hours for Silverthorne he assured me my car would be fine in the parking lot until I could get back up there. Since previous experiences with cars has been mostly negative, from the DMV to having local auto repair shops rip me off, it was nice for a change to deal with someone who was understanding, motivated to help, and extremely knowledgeable. I just wanted to take a moment and thank Kevin, and Vista Suaru for turning a rather negative experience into a positive one with a little help and care.
                                                                                                                        Paul