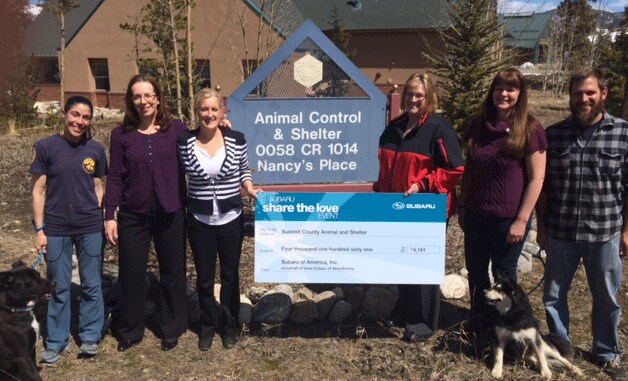 On April 4, 2015, Vista Auto Group's Subaru dealership and in partnership with Subaru's Share the Love Event, donated $4,161 to the Summit County Animal Control and Shelter.
The Subaru Share the Love Event is a charity event that ran between November 19, 2015 and January 2, 2016. Subaru donated $250 per new car sold to the customer's choice of charity organization. In Colorado alone, Subaru has raised more than $500,000 for different local charities.
Vista Auto Group's Subaru dealership nominated the Summit County Animal Control and Shelter, a local government animal control whose missions are to enforce the regulations for domestic animal care and control; to provide the domestic animals in their care a secure, shelter environment; and to offer adoptable animals an opportunity for placement into responsible and safe homes.
Samantha Whitehead, General Manager of Vista Auto Group; Marsha Mckinsey, Vista Auto Group's Controller; and Subaru's District Sales Manager, Mary Ellen Hilard presented the check of $4,161 to Lesley Hall, Director of Summit County Animal Control and Shelter; Richard Manning, Kennel Staff and Steph Dwyer, Kennel Tech; and Momo and Neive, the shelter's rescued dogs.
At their utmost capacity, the organization is able to hold 46 dogs and 31 cats. However, the shelter will consider full at 20 dogs and 20 cats to maintain a manageable cleaning routine. They get an annual average of 640 animals ranging from owner surrenders, unclaimed strays and transfers from other shelters. Last 2015 was a record year for them as they have adopted 429 animals.
"This money allows us to provide more medical treatment for the shelter animals which makes them ready for adoption…. We truly appreciate your support in helping adoptable pets get the medical treatment they need before being adopted into their permanent homes." Said Lesley Hall, director of Summit County Animal Control and Shelter.
To learn more about the Summit County Animal Control Shelter, please click here.
About:
Vista Auto Group is Summit County's Subaru and Jeep Chrysler Dodge Ram dealership. We are located in Silverthorne, CO and we offer competitive pricing on all of our new and used vehicles. Learn more about us and on how we make car buying easy.