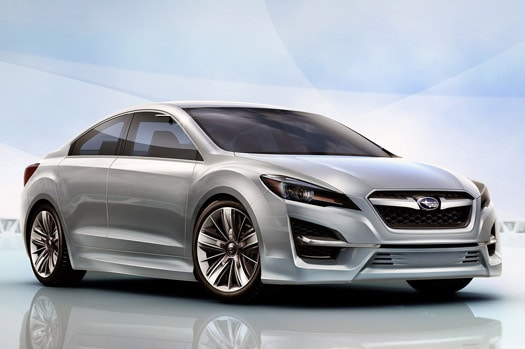 The 2012 Impreza doesn't differ much from the existing car in terms of its overall design identity, but its detailing is vastly more complex, drawing heavily on the larger Subaru Legacy. As before, both four-door sedan and five-door hatchback configurations will be available from your Silverthorne Subaru dealer, Vista Subaru.
Subaru says that an all-new 2.0-liter, 148-horsepower Boxer engine lies under the Impreza's hood. Although well down on power from last year's 2.5-liter 170-horsepower, the new engine helps the Impreza net a vastly improved 36 mpg on the highway compared to last year's maximum of 27 mpg. In fact, the 2012 car's 26 mpg city fuel economy matches the outgoing model's 26 mpg highway when equipped with an automatic.
All-wheel-drive is still standard across the line, while base models gain a five-speed manual transmission and a CVT is a new option. A conventional automatic transmission is no longer an option for the Impreza. The 27/36 mpg fuel economy figures apply to both CVT and manual Imprezas.
Inside, Subaru says that passenger space is greater than before, thanks in part to a slightly longer 104.1-inch wheelbase. An all-new dashboard features more upscale materials and design than before, including a new navigation system display. Subaru moved the car's A-pillar a full 7.9 inches forward from its previous location, which increases front passenger room and helps out with ingress and egress.
Subaru will offer the 2012 Subaru Impreza in five trim configurations - base, Premium, Sport Premium, Limited and Sport Limited. Base models feature power windows and locks, an outside temperature gauge and a trip computer, while Premium trim adds 16-inch alloy wheels, steering wheel audio and Bluetooth controls, a rear stabilizer bar and a handful of other upgrades. Heated seats and a moonroof are optional for Premium models.
Sport Premium trim adds 17-inch alloy wheels, heated seats, fog lamps, roof rails and revised seat trim. Opt for Limited specification and the Impreza will include leather seats. Follow our blog or visit one of the leading Summit County Subaru dealerships, Vista Subaru, to get more information on the 2012 Impreza.