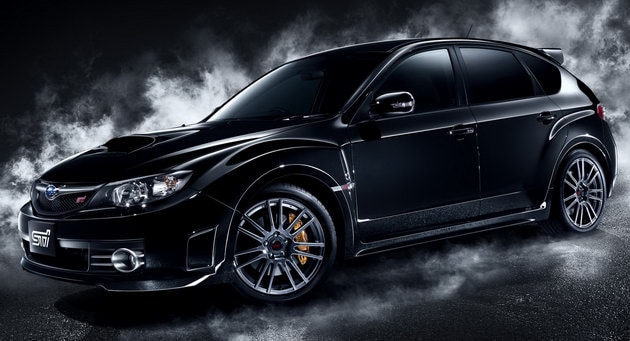 Vista Subaru, your Summit County Subaru dealer, is happy to announce that the 2012 Impreza STI should be hitting our showroom sometime in late September or early October.
The design is defined by a theme of "Dynamic, Enticing, Secure." Starting with this theme, the Impreza STI version adds requisite fender flares, a top-mount intercooler, and, that massive wing on the back.
The standard Impreza is was in early 2011. It will continue offering the same 2.5 liter Boxer engine, but rumors are also circulating that a hybrid version will also be available, a first for Subaru. The Impreza STI model will follow a few months later with sales beginning in early 2012.
New details about the future generation 2012 Subaru Impreza STI suggest that, starting 2014, the Impreza and the WRX will go their separate ways. What this means is that the car will simply be called the Subaru WRX and will be a totally different vehicle. According to a MotorTrend source: "Apart from a few nuts and bolts, every part on the WRX will be unique. Even the engine and body. Obviously the WRX's platform will be inherited from the new Impreza, but it will be radically modified and significantly shortened."
There is a hexagonal grille with spread wings in the center and hawk eye-style headlights, while the rear gets a garnish that radiates outward from the center, sharp-edged rear lights, and a new taillamp. The STI version will be distinguished by fender flares, a top-mount intercooler, and a massive wing on the back. Some cool points are added with a carbon fiber hood and blacked-out fog lamps.
The interior will offer sports seats covered in leather, aluminum inserts, three-spoke wheels, and a long list of technologies, including Bluetooth, a Navigation system, iPod capability, and an XM/Sirius radio.
The WRX is powered by a 2.0-liter naturally aspirated Boxer engine mated to a Lineartronic Continuously Variable Transmission (CVT). However, for the STI version, expect to see a turbocharged version of the 2.5 liter boxer engine with more than 305 HP. The engine will be mated to a fully synchronized close-ratio 6-speed manual transmission.
Feel free to visit with any of our knowledgeable sales guides at one of your leading Silverthorne Subaru dealerships, Vista Subaru, located at 171 West 9th Street in Summit County.